Written by Forrest Maynock
Next to getting to know people directly in class there is nothing more important in university culture than knowing where the closest "watering holes" are located.
Okayama has a wide variety of bars and eateries ready to be explored, so in this article I will give you a glimpse into three different establishments where one could find good food, drinks, and friends.
Address: 1 Chome-10-21 Ekimaecho, Kita Ward, Okayama, 700-0023
Located approximately 5-10 minutes by foot from Okayama Station Aussie Bar is ideally located for those who prefer to "go downtown" for the evening. In particular Aussie Bar is an ideal location to either take a break or end your night off at. Unlike most other sports bars Aussie Bar has the great trait of being a bar where you can actually have a conversation without the music or television blowing your eardrums out; music is usually playing, but at a level that more resembles a house party than a crowded club. Out of all the bars in Okayama, Aussie Bar is probably the most foreign friendly in terms of patronage and conversation; Aussie Bar is one of the most notable "global hotspots" in Okayama.
Aussie Bar's menu is also quite well rounded. The selection of drinks is littered with classics as well as many unique cocktails that all have their own specific flavor for your tastebuds. The menu also includes a wide variety of food items ranging from fried chicken wings to a kangaroo burger. I would personally recommend the Fish and Chips dishes and Aussie Bar Special for food items, and the Red Rock and Green Monster for drinks.
More than anything I would label Aussie Bar as the best location to make friends and meet new people; each time I have visited the bar I have been greeted by a fine mixture of familiar and new faces. As an international student in Japan, the Aussie Bar is the place to go. If I had to sum up the Aussie Bar in one sentence it would be: A place for new friends and connections.
Address: 5 Chome-6-4 Minamigata, Kita Ward, Okayama, 700-0807
GB's is a great spot for university students in particular because of the price and size of portions. The quality of drink and food is also quite high, but GB's does suffer from not having enough space and having a small staff that increases wait times, but for the price and quality GB's is hard to beat.
The bar is an American style bar which means much of the food is limited to American style dishes like french fries and various hamburgers and sandwiches, but the dishes are large and tasty. The drinks in particular are a highlight here as there is a wide variety and they pack a nice punch rarely found in most other bars in Japan. Recommended drinks are Tokyo Tea and No Way Back, and for food the Mexican Potatoes and Buggy Sandwich are quite good. There is such a thing as too much of a good thing, and in this case having a large menu and such huge food portions causes the quality of service to go down a bit. Wait times are the main culprit here, but if you are willing to wait it out you can have a very nice and affordable meal with some quality drinks to go along.
Out of the three bars in this review, GB's Cafe is best suited for University students who are looking for an affordable night out. The proximity to Okayama University also makes GB's Cafe a prime location for university students living on campus. One sentence summary for GB's Cafe: Quality food and drinks for an affordable price.
Address: 3-8 Nishikimachi, Kita Ward, Okayama, 700-0902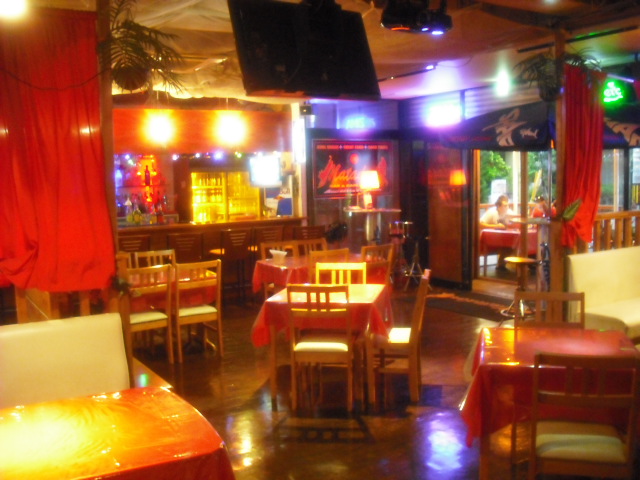 The last of the three bars in this review is also the farthest from Tsushima campus; Matador is a party bar in every sense of the word. The space and variety of bar games gives a very welcoming and entrancing vibe. Matador is also the loudest of the three bars, but this is made up for with the most comfortable seating of the three, and the best lighting (dim red). Matador is also the most spacious of the three bars making it a prime location for large group parties, and the bar boasts at least three dart boards and a DJ booth.
Out of the three bars Matador is the most party friendly, but in terms of food items little more can be said than overpriced. This along with the sometimes loud atmosphere rule this out as a "quiet date night spot," but if you have some money and want to have fun then Matador offers the best opportunity in that regard. The drinks are quite balanced taste wise and fairly strong, but the number of drinks available on Matador's menus is far fewer than GB's and about equal to Aussie Bar. Personally I would recommend the Red Apple and, although it is available at every bar, the Ginger Highball is done quite well here as well.
This is the sort of bar that one would go to if they have a large group of friends who want to drink together, or for those looking for a more party or club-like setting. One sentence summary for Matador: Great for partying and bar games.